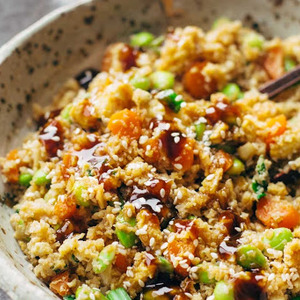 15 Minute Cauliflower Fried Rice
Very good, healthy, and quick recipe! Thank you. I added red peppers for color and another vegetable. I will definitely be making this again.

MALIA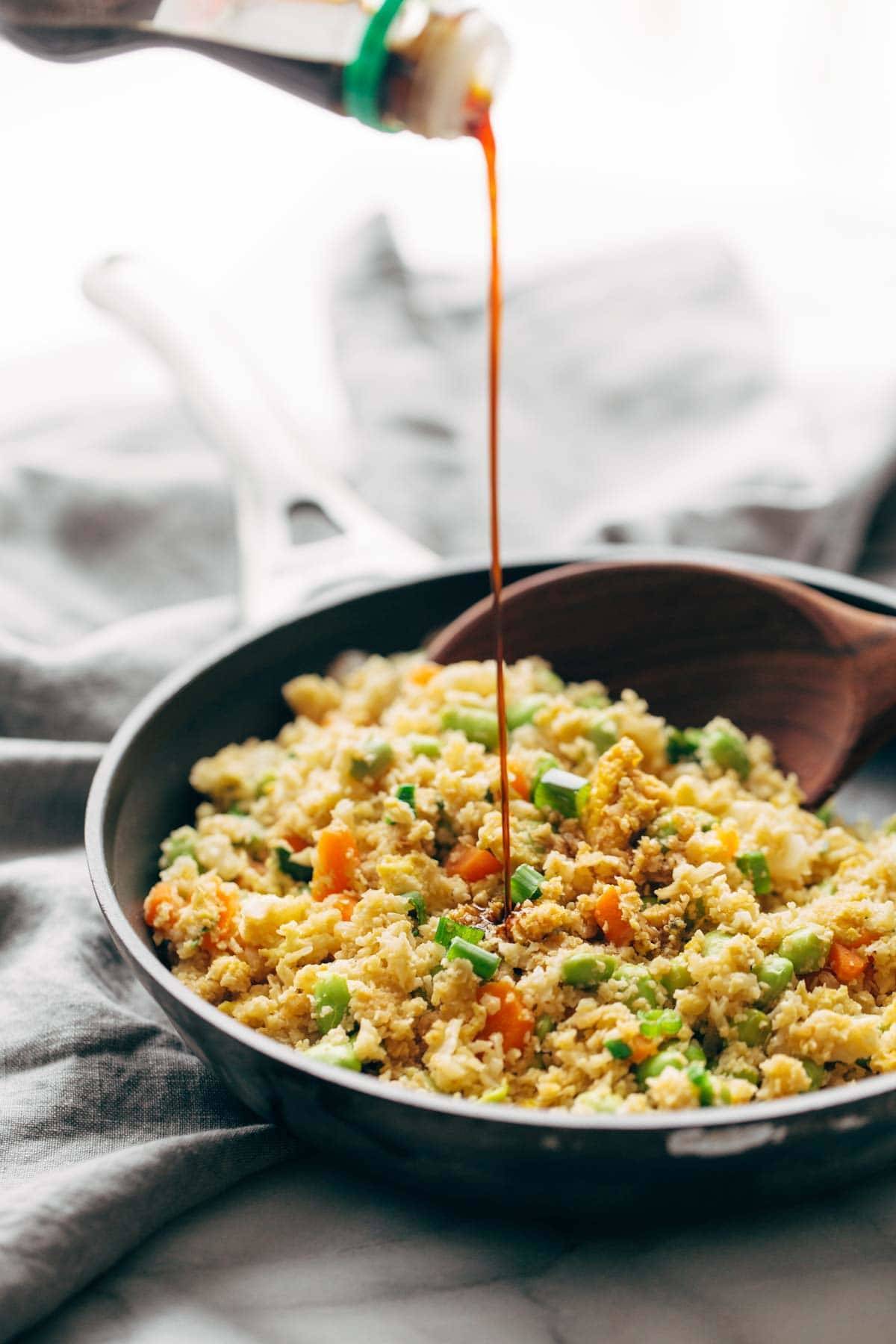 Let's Talk About Cauliflower Rice
At this point, we're all pretty familiar with Cauliflower Rice. It's pretty obnoxious at first glance (why not just make RICE? does everything have to be made from cauliflower?) but upon further investigation and much cauliflower rice consumption, I can confidently say that this is worth it.
It's just straight up vegetables, with a little oil, a little sauce, and a little egg or tofu for protein.
Also – it's so fast and easy.
Just pulse the raw cauliflower into "rice" in the food processor and then stir fry the whole thing up. No soaking, no pressing, no strange and unusual kitchen moves other than just pulsing a few pieces of cauliflower into this magical rice substitute.
This recipe is too easy for you to even have any excuses. Get all your ingredients out (a little mise en place, maybe? #fancy) and I promise it won't take you more than 15-ish minutes. Dinner! Ready! Set! Go!
Fat
17%11g
Saturated
9%2g
Trans
0%0g
Monounsaturated
0%4g
Polyunsaturated
0%3g
Carbs
5%14g
Carbs (net)
0%9g
Fiber
22%6g
Sugars
0%5g
Sugars, added
0%0g
Protein
20%10g
Cholesterol
27%80mg
Sodium
20%476mg
Calcium
9%89mg
Magnesium
13%57mg
Potassium
16%770mg
Iron
12%2mg
Zinc
12%1mg
Phosphorus
27%189mg
Vitamin A
22%195µg
Vitamin C
88%79mg
Thiamin (B1)
13%0mg
Riboflavin (B2)
25%0mg
Niacin (B3)
9%1mg
Vitamin B6
32%0mg
Folate equivalent (total)
51%205µg
Folate (food)
0%205µg
Folic acid
0%0µg
Vitamin B12
8%0µg
Vitamin D
3%0µg
Vitamin E
6%1mg
Vitamin K
65%79µg
Sugar alcohols
0%0g