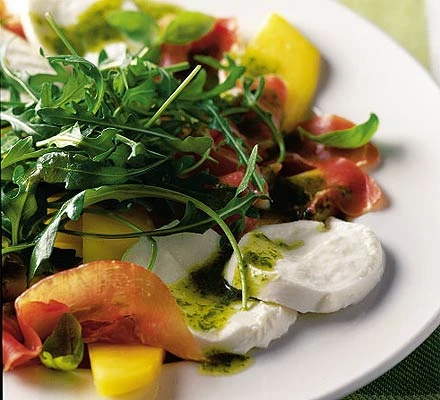 Mozzarella, mango & Serrano ham salad
STEP 1To make the dressing, whisk the olive oil, sweet chilli sauce, chopped basil leaves and 1 tbsp of the lemon or lime juice together with a sprinkling of sea salt and freshly ground black pepper. Alternatively, if you prefer a smoother, green-coloured dressing, you can whizz the dressing ingredients in a small blender. Either way, taste and then add more lemon or lime juice or seasoning if you want.
STEP 2To prepare the salad, peel the mangoes and carefully slice off each fleshy side close to the stone. Slice the mango flesh lengthways into thin strips. Don't throw the stones away, the flesh still attached is the cook's perk. Separate the slices of ham and thinly slice the mozzarella.
STEP 3You can now set everything out on a serving platter, or on individual plates. Pile the rocket in the centre. Arrange a circle of mango and ham round the rocket, sort of weaving them in and out of each other. Finish with an outer ring of overlapping mozzarella slices, then drizzle with the dressing. Grind some extra black pepper on top if you like, and scatter everything with the basil leaves.
Ingredients
For the chilli basil dressing
5 tbsp good-quality extra-virgin olive oil
1 tsp sweet chilli sauce (Lingham's and Sharwood's are good)
For the salad
2 medium-sized ripe mangoes
3 x 125g mozzarella balls (preferably buffalo)
100g pack rocket (preferably wild)
a few small basil leaves, to garnish